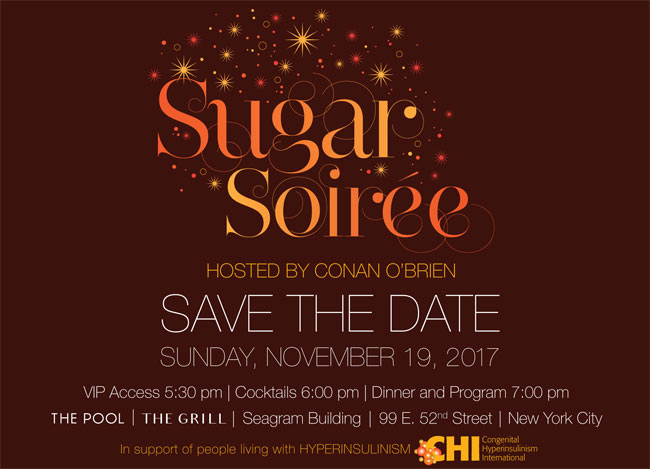 Purchase Sugar Soiree Tables, Tickets, and Sponsorships:*
---
Sugar Soiree Tickets
VIP Table at $10,000:
VIP Cocktails with Conan
Meet and Greet Photo Opportunity
Program Recognition
VIP Gift
Cocktails, Dinner and Program
Sugar Soiree Sweets
Table at $6,000:
Program Recognition
Cocktails, Dinner and Program
Sugar Soiree Sweets
VIP Ticket at $750:
VIP Cocktails with Conan
VIP Gift
Cocktails, Dinner and Program
Sugar Soiree Sweets
Individual Ticket at $500:
Cocktails, Dinner and Program
Sugar Soiree Sweets
---
Information on Sponsorships
Research Breakthrough Sponsor: $250,000
Research Leadership Sponsor: $100,000
Presenting Sponsor: $50,000
Diamond Sponsor: $25,000
Platinum Sponsor: $10,000
Gold Sponsor: $5,000
Silver Sponsor: $2,500
*Platinum, Gold and Silver Sponsorships can be purchased online; Research Leadership, Presenting, and Diamond Sponsorships can be coordinated with CHI's Executive Director Julie Raskin by email at jraskin@congenitalhi.org or by phone at 973-544-8372.
---
Congenital Hyperinsulinism International (CHI) will be holding its annual Sugar Soiree, on November 19, 2017 at the Pool and the Grill Restaurants in the Seagram Building, in New York City.
The restaurants bring together the best in New York dining, interior design, and architecture, with American chefs Mario Carbone and Rich Torrissi in charge in this elegant and storied setting. The restaurants hold national landmark status in the space originally designed by Phillip Johnson and Mies van der Rohe. With both restaurants opening just this year, attending the Soiree is a wonderful opportunity to support a great cause while enjoying a unique and sought after dining experience.
CHI, a 501(c)3, is a lifeline to those born with congenital hyperinsulinism (HI) and their families. CHI is the global organization dedicated to supporting children and adults born with HI. CHI also supports research leading to better treatments and a cure and works to raise awareness of the condition to reduce brain damage and death from prolonged hypoglycemia.
One of the most revered American television hosts and comedians of all time, Conan O'Brien, will be the host of the Sugar Soiree.
Dr. Diva De León, Director of the Congenital Hyperinsulinism Center at the Children's Hospital of Philadelphia, will receive the CHI Be My Sugar Award for Medical Excellence at the Soiree. Dr. De León is at the forefront of HI clinical care and research. She has treated hundreds of children with the rare condition and is a physician-scientist directing an NIH-funded translational research program with the goal of identifying new treatments and cures. She is an ardent supporter of all born with HI, as well as their families, and is known all over the world for her compassion, groundbreaking research projects, and cutting-edge care.
At the Soiree, Alex Fallon will receive the CHI Be My Sugar Extraordinary Volunteer Award. Ms. Fallon has shared her graphic design talent with CHI and has spent countless hours volunteering her time. Ms. Fallon is an award-winning advertising art director and graphic designer. She has worked at many top agencies including Young & Rubicam, Mezzina/Brown, McCann Amster Yard, and Ogilvy & Mather. She has directed work on global campaigns for consumer products such as American Express, Hershey Foods, Kimberly-Clark, Miller Lite, and Jolly Rancher, which won two ADDY awards.
Funds raised at the Sugar Soiree will support the work of CHI to:
Raise vital awareness of the condition to prevent prolonged hypoglycemia that can lead to brain damage and death.
Advance new research with the development of the HI Global Registry and funding for research.
Help patients gain access to specialized treatment, medications, and supplies and excellent care.
Provide families and patients a safe forum for sharing and up-to-date online resources and support funds to help patient families in need travel to and stay in out-of-town hospital locations while children are receiving specialized care.
CHI is a 501(c)(3) organization in the United States. U.S. Contributions and Auction Donations are tax-deductible. CHI's Tax ID number is 20-3068945. To purchase tickets, please utilize the PayPal option above. If you can not attend and would like to make a donation, you can do so here.
Thank you so much for your support.
For more information or questions please contact CHI's Executive Director Julie Raskin by email at jraskin@congenitalhi.org or by phone at 973-544-8372.