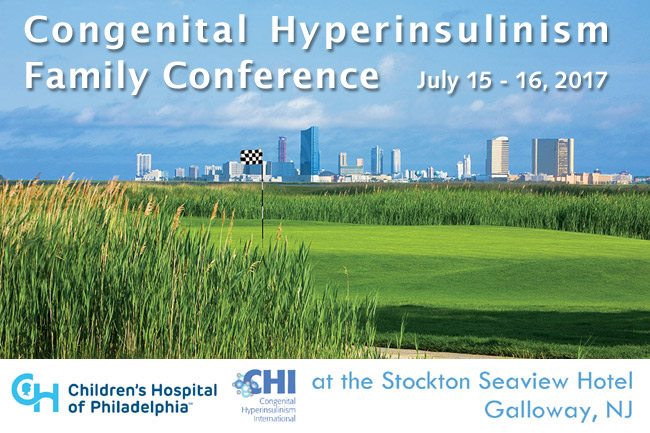 July 15-16, 2017: Congenital Hyperinsulinism International (CHI) and the Children's Hospital of Philadelphia (CHOP) invite you to the Congenital Hyperinsulinism (HI) Family Conference at the Stockton Seaview Hotel in Galloway, New Jersey.
Scroll down to register online using the form below.
The 2017 Congenital Hyperinsulinism Family Conference is the place to learn about the rare condition, HI. The two-day conference will take place on July 15 and 16 at the Stockton Seaview Hotel in Galloway, New Jersey. HI family members and professionals interested in learning more about HI are welcome from all over the US and the world. Participants will gain a comprehensive understanding of HI. The Children's Hospital of Philadelphia (CHOP) will be providing many of the expert speakers. There will be additional speakers from other leading HI centers and other renowned medical institutions, HI organizations, and biotech companies. There will also be ample opportunity for meeting and sharing experiences with other families who have children with congenital hyperinsulinism.
There will be panel discussions and talks on topics important to HI families, as well as more interactive sessions, including sessions on:
Understanding the Role of Insulin in the Human Body
Understanding the Underlying Causes of Hyperinsulinism
Understanding your Genetic Report
Current Treatment Options
Updates on investigational studies
Managing HI at School
Feeding Issues and Nutrition
Small break-out sessions on many important HI topics
Speed dating with the specialists
Patient Powered Research: The HI Global Registry
The Family Reception and Dinner on Saturday Night, July 15
The Conference Agenda, subject to changes, is now available.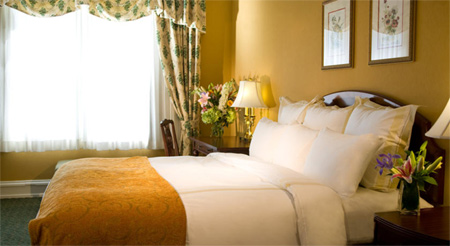 The Conference will take place at the Stockton Seaview Hotel, 401 South New York Road 08205 in Galloway, New Jersey. CHI has reserved a block of rooms at a rate of $179.00 a night, not including taxes and fees. You can reserve your rooms at this link: https://aws.passkey.com/e/49047754. Please make your reservations at your earliest convenience to ensure that a room is available. The room rate is guaranteed until June 13 or until rooms sell out.
We ask that you also register for the Conference by June 13, 2017; the sooner the better because attendance is limited.
Cost: The registration for the conference is $50 per adult and teenager, which includes program registration and admission to all conference sessions, breakfast, lunch, and dinner on Saturday, and breakfast on Sunday. The registration for children under 12 is $25 and includes the conference meals. There is a family rate of $150 for families of more than 4 people and children under 3 are free. Childcare will be available during conference sessions.
Congenital Hyperinsulinism International is offering scholarships for lodging for hyperinsulinism families in need of financial support, for those attending the 2017 Congenital Hyperinsulinism International Family Conference at the Stockton Seaview Hotel. The scholarship will cover the cost of one night at the Stockton Seaview Hotel. The link to the scholarship application is here; those applying for scholarships for a hotel night must also register for the Conference below: