Congenital Hyperinsulinism International (CHI) will hold our annual Sugar Soirée on Saturday, November 2, 2019 at The Mütter Museum of The College of Physicians of Philadelphia. The Sugar Soirée is the annual fundraising event for CHI, the only organization of its kind improving the lives of people born with congenital hyperinsulinism (HI).
(Click here or scroll down to purchase tickets now)
The Mütter Museum of The College of Physicians of Philadelphia is the spectacular and fitting location of this year's Soirée. From the gorgeous marble rotunda to the medicinal herb garden, America's finest museum of medical history is housed in a beautiful New Beaux-Arts style building, constructed in 1909 and designed by Cope and Stewardson. The Mütter Museum helps the public appreciate the mysteries and beauty of the human body while understanding the history of diagnosis and treatment of disease.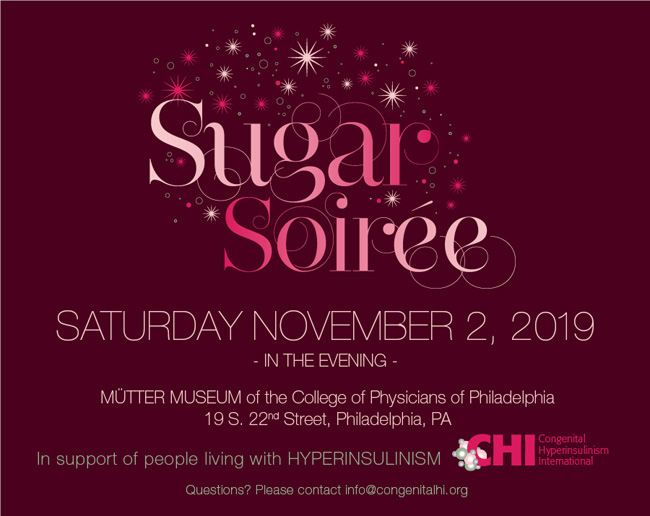 Funds raised at the Sugar Soirée will support the work of CHI to:
Help patients gain access to specialized treatment, medications, supplies, and cope with the burden of living with a rare disease.
Advance new novel clinical research and sponsor the patient-powered research project, the HI Global Registry.
Raise vital awareness of the condition to prevent prolonged hypoglycemia that can lead to brain damage and death.
Educate the patient, medical, and biotech community on congenital hyperinsulinism from the global patient perspective.
Provide HI genetic testing for patient families in need through the University of Exeter, a world leader in genetic testing.
Attending the Soirée is a wonderful opportunity to support a meaningful cause while enjoying a unique and coveted dining and entertainment experience. The Sugar Soirée will offer an unparalleled opportunity for donors to demonstrate philanthropic commitment at a premier event that brings together people from across the country who are part of the CHI community, including leaders in finance, healthcare, biotech, research, the arts, and technology.
A limited block of rooms has been set aside at a special rate for the Sugar Soirée at the Sonesta Phildelphia Rittenhouse Square, 1800 Market St. Philadelphia, PA 19103.
You can make a reservation through this link:
Sonesta Hotel Reservations (before October 5, 2019).
CHI is a 501(c)(3) organization in the United States. U.S. Contributions and Auction Donations are tax-deductible. CHI's Tax ID number is 20-3068945.