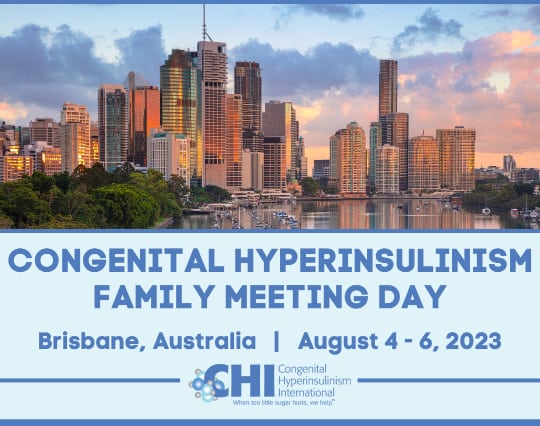 We are excited to announce that we will host a Congenital Hyperinsulinism Family Meeting Day in Brisbane, Australia, on August 5, 2023!
While details are still being finalized, registration is now open – you can sign up with the form below.
The weekend will begin with a welcome reception on Friday, August 4th, in the evening at the conference hotel, which will be announced very soon. In addition to the Family Meeting day and event dinner on Saturday, August 5, we are planning a family activity in Brisbane for Sunday, August 6.
The meeting will include informative sessions on congenital hyperinsulinism from HI specialists, HI family members, and CHI advocacy leaders. There will also be interactive sessions where HI families will have opportunities to share their stories and experiences.


Topics may include:
Living with congenital hyperinsulinism
Understanding your Genetic Report
Current HI Treatment Options
Patient-Powered Research: The HI Global Registry
The CHI Collaborative Research Network and an update on a potential new Investigational study
This event will be an opportunity to learn more about living with congenital hyperinsulinism, get to know the global HI community members, and meet and share experiences with other HI families in Australia.
Thanks to generous sponsors and other donors, this event will be free of charge for HI patients and families and the academic community.