Congenital Hyperinsulinism International (CHI) and the Children's Hospital of Philadelphia (CHOP) invite you to the Congenital Hyperinsulinism Family Conference in Philadelphia, April 15-17, 2016.
Scroll down to complete the registration form online below. You may also print out the registration form and mail it with a check (made payable to CHI) to:
CHI
P.O. Box 135
Glen Ridge, NJ 07028
The CHOP Hyperinsulinism Center team, additional world-renowned physicians, researchers, and congenital hyperinsulinism (HI) specialists, HI family members, and CHI advocacy leaders will be presenting at the conference. There will also be interactive sessions where HI families will have opportunities to share their stories and experiences. Some of the activities taking place at the Conference include:
The Meet and Greet and Sugar Salon on Friday Night, April 15
Special Topic: Diagnosing and Managing Hyperinsulinism
Special Topic: HI Genetics
Special Topic: HI Issues Related to Feeding and Nutrition
Presentations on Investigational Studies
Special Topic: Managing HI at School
Special Topic: Living with HI as an Adult
The Family Reception and Dinner on Saturday Night, April 16
The following is a list of some of the experts who will be participating in the Conference:
N. Scott Adzick, MD
Indi Bannerjee, MD
Diva D. De León-Crutchlow, MD
Mark Dunne, PhD
Adda Grimberg, MD
Sian Ellard, PhD
Khalid Hussain, MD
Andrew Palladino, MD
Michael Rickels, MD, M.S.
Charles A. Stanley, MD
Paul Thornton, MD
Steve Willi, MD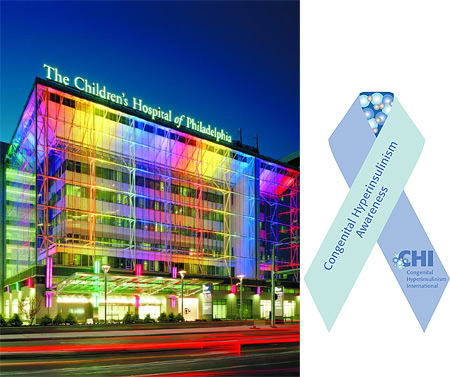 The Conference will take place at the Sheraton Philadelphia University City Hotel located at 3549 Chestnut Street, Philadelphia, PA 19104 and the Colket Translational Research Building at CHOP located at 3501 Civic Center Blvd, Philadelphia, PA 19104. CHI has reserved a block of rooms at the Sheraton as well. Details about the schedule will follow after registration is completed. The first event will be a Meet and Greet Friday, April 15 from 6-7:30 pm and the Conference will end on Sunday, April 17 by 4:00 pm.
Participants can make room reservations by phoning the Reservations Office at the Sheraton Philadelphia University City Hotel. The name of the room block is the HI Family Conference. The phone number is 1-215-387-8000. You can follow the prompts for "Reservations," or dial extension 606. The rooms with two double beds are available for a rate of $149 per night (excluding tax, fees, and parking) on Friday, April 15 and Saturday, April 16. Room reservations need to be made by March 16 at 5 pm.
We ask that you also register for the Conference by March 16, 2016.
Cost: The registration for the conference is $50 per adult and teenager, which includes program registration and admission to all conference sessions, lunch, and dinner on Saturday, and lunch on Sunday. The registration for children 12 and under is $25 and includes the conference meals. There is a family rate of $100 for families of 3 or more, and children under 3 are free. There will be babysitters at the conference to watch children while parents are in learning sessions. Children will join their parents for snacks and meals, and parents will be responsible for all medical care. If you are interested in babysitting, please register by March 1, 2016.
Attendance is limited, so don't delay in registering! Questions? Email jraskin@congenitalhi.org.