Congenital Hyperinsulinism International (CHI) is a charitable organization dedicated to improving the lives of children, adults, and families living with congenital hyperinsulism.
What We Do:
Advocate on behalf of children and adults with congenital hyperinsulinism.
Create and provide educational resources about congenital hyperinsulinism to patients, families, medical professionals, school personnel, and any other interested parties.
Support research and development of medical knowledge and medical devices to better understand and treat congenital hyperinsulinism.
Support children, adults, and their families living with congenital hyperinsulinism.
Increase awareness of congenital hyperinsulinism, especially among medical personnel, in order to improve timely diagnosis.
Watch our video to learn about hyperinsulinism and the children and families who live with it. The video emphasizes the importance of early diagnosis, research, and support for hyperinsulinism families.
UPCOMING EVENTS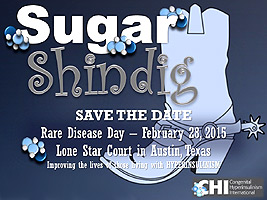 The Sugar Shindig
The CHI Sugar Shindig will take place on Saturday, February 28th, on Rare Disease Day at the Lone Star Court Hotel in Austin, Texas. Please join us for an evening highlighting CHI's rare disease advocacy, research and support at an Austin, Texas venue with a "timeless twist."
Please click here for more information and to purchase admission to this event.