Congenital Hyperinsulinism International (CHI) is a charitable organization dedicated to improving the lives of children, adults, and families living with congenital hyperinsulism.
What We Do:
Advocate on behalf of children and adults with congenital hyperinsulinism.
Create and provide educational resources about congenital hyperinsulinism to patients, families, medical professionals, school personnel, and any other interested parties.
Support research and development of medical knowledge and medical devices to better understand and treat congenital hyperinsulinism.
Support children, adults, and their families living with congenital hyperinsulinism.
Increase awareness of congenital hyperinsulinism, especially among medical personnel, in order to improve timely diagnosis.
Watch our video to learn about hyperinsulinism and the children and families who live with it. The video emphasizes the importance of early diagnosis, research, and support for hyperinsulinism families.
UPCOMING EVENTS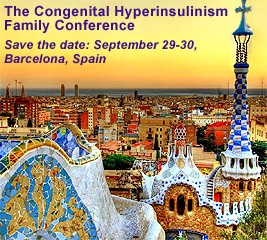 The 2015 Congenital Hyperinsulinism Family Conference
Save the Date: On September 29-30, 2015 Congenital Hyperinsulinism International (CHI) and Sant Joan de Déu Children's Hospital will hold the 2015 Barcelona Congenital Hyperinsulinism Family Conference at the Sant Joan de Déu Children's Hospital in Barcelona, Spain.
Please click here for more information and to register for this event.
Márcalo en el calendario: los días 29 y 30 de septiembre del 2015 se celebrará el Congenital Hyperinsulinism International (CHI) y en el Hospital Sant Joan de Déu de Barcelona (España), van a celebrar la edición del 2015 de la Conferencia para Familias con hijos con Hiperinsulinismo Congénito.
Para más información y para inscribirse, hace clic aquí, por favor.
Congenital Hyperinsulinisme International (CHI) et l'hôpital pour enfants Sant Joan de Déu vous convient à L'édition 2015 de la Conférence familiale sur l'hyperinsulinisme congénital
Cliquez ici pour plus d'information et pour vous inscrire.
On November 13, 2015, Congenital Hyperinsulinism International (CHI) will hold the 2015 Sugar Soiree, an evening dedicated to the hyperinsulinism community and raising funds for research, public awareness, education and support. The event will take place at the Carolands Chateau, a stunning mansion designed by renowned French Architect, Ernest Sanson. The grand home has been described as the Downton Abbey of California, and has been the subject of a PBS full length documentary. The philanthropic Johnson family donated the home to be used exclusively for charitable events and CHI is a lucky recipient, having been selected to hold its signature event at the Chateau.
Click here for more information and to buy tickets online.