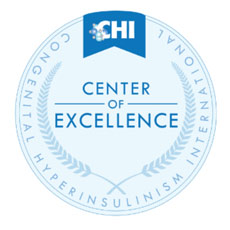 We are thrilled to announce the launch of the Congenital Hyperinsulinism International (CHI) Hyperinsulinism Centers of Excellence (COE) Program. The CHI COE Program will designate specialist facilities providing the highest quality of care for hyperinsulinism (HI) patients and their families around the world.
Every year, around the globe, thousands of babies are born with HI. They need appropriate and expert care to reduce the risk of brain damage and death and to ensure proper management of their disease for the best possible quality of life, as do all children and adults living with HI.
Please join Congenital Hyperinsulinism International (CHI) for an informational webinar on Tuesday, December 15 at 11:00 AM Eastern United States time to share information about the CHI Centers of Excellence Program and application process. You can register here to join the session. Please register by Sunday, Dec 13, 2020.
There are some superb institutions known for providing excellent HI care and participating in groundbreaking research, yet until now there has not been a review process or certificate awarded to institutions for the care of those with HI.
This systematic review of HI Centers, which will result in a HI COE designation, will help parents of children with the condition and adults living with the condition to know where to go for multidisciplinary, coordinated care, treatment, and ongoing medical support. We encourage all existing HI centers to consider applying for the designation.
HI Centers can apply online here: https://chi.submittable.com/submit/177039/chi-centers-of-excellence-program-application. Applications are due by January 15, 2021. Completed applications will be evaluated and scored by CHI staff.
The CHI COE designation application was developed by an international committee of HI specialists, clinicians, and patient representatives who worked together to identify the requirements. The criteria include demonstrated excellence in clinical care, academic research, collaboration, and a commitment to patient care.
The online application consists of 33 questions that are associated with identified criteria to determine comprehensive and expert HI care. Centers can review the application criteria and scoring by reviewing the COE Application Rubric here.
If you have any questions, please contact Tai Pasquini, CHI Director of Research and Policy, by emailing tpasquini@congenitalhi.org or calling her at 973-842-7559.