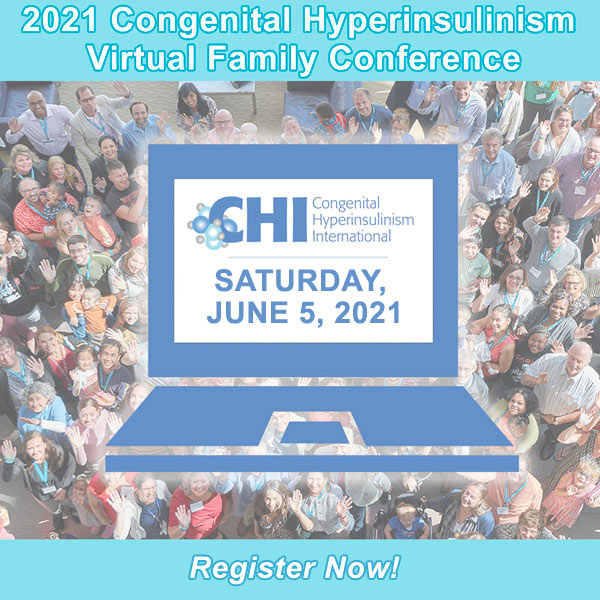 Living with HI Yesterday, Today, and Tomorrow: Learning from our past, making the best of now, and collaborating for a brighter future
Congenital Hyperinsulinism International hosted our 2021 Virtual Family Conference on Saturday, June 5, 2021. The conference website was open from 9:30 AM Eastern US Time until 4:00 PM Eastern US Time. The conference sessions took place from 10:30 AM Eastern US Time until 2:05 PM Eastern US Time. Conference attendance was free of charge.
As always, the conference will include live panels and presentations from the leading experts in the field of HI, videos, interactive Q & A, small group breakout sessions, and exhibit space with the latest information from our sponsors and partners. This conference offers unparalleled access to knowledge in the field of HI.
---
The Virtual Million Dollar Bike Ride
The Virtual Million Dollar Bike Ride is Saturday, June 12, 2021. Team CHIbra will be raising funds for research once again – get more details here!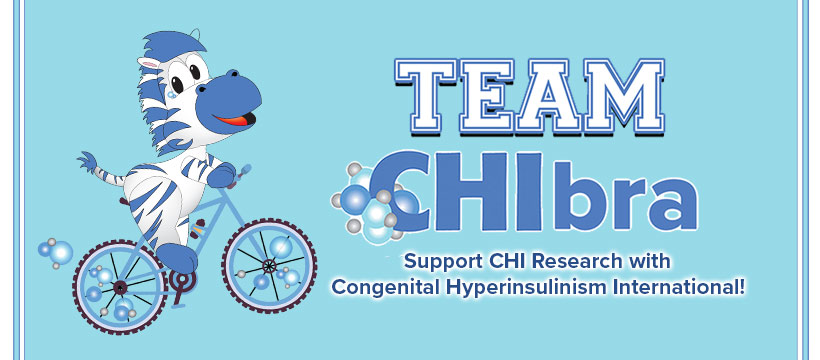 ---
CHI Collaborative Research Network

A collaborative research network (CRN) is a network of patients and families, physicians, researchers, and patient organizations working together to accelerate research and cures for a particular disease. The CHI CRN builds on the work and momentum of the research done by many experts around the world and our own patient-powered research through the HI Global Registry. The CHI CRN will continue to build on existing projects by forming new partnerships to increase collaboration across institutions and organizations.
Click here to read more about the CHI Collaborative Research Network.
You can follow the progress of the CHI Collaborative Research Network by filling out this form.
---
HIlights: Year in Review 2020

Despite the pandemic, this has been one of the busiest, most productive years on record for Congenital Hyperinsulinism International (CHI). Please read our 2020 HIlights Newsletter here.
You can also read more about our year in review from CHI's Executive Director Julie Raskin in her 2020 year end letter here.
---
The CHI Centers of Excellence (COE) Program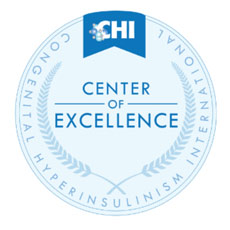 We are thrilled to announce the launch of the Congenital Hyperinsulinism International (CHI) Hyperinsulinism Centers of Excellence (COE) Program. The CHI COE Program will designate specialist facilities providing the highest quality of care for hyperinsulinism (HI) patients and their families around the world.
Every year, around the globe, thousands of babies are born with HI. They need appropriate and expert care to reduce the risk of brain damage and death and to ensure proper management of their disease for the best possible quality of life, as do all children and adults living with HI.
There are some superb institutions known for providing excellent HI care and participating in groundbreaking research, yet until now there has not been a review process or certificate awarded to institutions for the care of those with HI.
Click here to read more about this program.
---
CHI receives a Rare As One Network Grant

Congenital Hyperinsulinism International is thrilled and humbled to announce that we are one of 30 rare disease organizations to receive a Rare As One Network grant of $450,000, distributed over two years, from the Chan Zuckerberg Initiative. This grant will allow us to work with the patient and scientific community to create a patient-led sustainable, lasting structure to prioritize and execute an international research agenda to better understand congenital hyperinsulinism (HI), identify new ways to improve the lives of those living with HI, reduce the incidence of irreversible brain damage, detect the genetic causes of HI types not currently known; and to find cures for each and every type of HI. Over the next few months we will learn much more about the resources available to build the network. We will be in contact with our CHI family partners and the scientific and medical community about collaborating on this exciting project.
Read more at the Press Release here.
---

CHI receives a Global Genes Rare Patient Impact grant for RARE Innovation. Click here or on the image to read the press release about this grant award.


---
Watch our video to learn about hyperinsulinism and the children and families who live with it. The video emphasizes the importance of early diagnosis, research, and support for hyperinsulinism families.
---
New! CHI "What is Congenital Hyperinsulinism" Posters
Informational posters in 20 different languages, available for download and printing on our CHI Posters page.

---