Congenital Hyperinsulinism International (CHI) is a charitable organization dedicated to improving the lives of children, adults, and families living with congenital hyperinsulism.
What We Do:
Advocate on behalf of children and adults with congenital hyperinsulinism.
Create and provide educational resources about congenital hyperinsulinism to patients, families, medical professionals, school personnel, and any other interested parties.
Support research and development of medical knowledge and medical devices to better understand and treat congenital hyperinsulinism.
Support children, adults, and their families living with congenital hyperinsulinism.
Increase awareness of congenital hyperinsulinism, especially among medical personnel, in order to improve timely diagnosis.
---
Notice of Clinical Studies
Learn more about a congenital hyperinsulinism clinical research study for infants with HI less than 1 year of age at http://studies.clin-edge.com/hyperinsulinism/ and https://clinicaltrials.gov/ct2/show/NCT02937558?recrs=a&cond=congenital+hyperinsulinism&rank=2.
Questions? Call (844) 311-3330 to speak to a study representative.
---
View the Be My Sugar Gallery to learn about hyperinsulinism and the children and families who live with it.

Click the image above to view our Be My Sugar campaign leading up to the 2016 Rare Disease Day!
---
Watch our video to learn about hyperinsulinism and the children and families who live with it. The video emphasizes the importance of early diagnosis, research, and support for hyperinsulinism families.
---
New! CHI "What is Congenital Hyperinsulinism" Posters
Available for download and printing on our new CHI Posters page; available in English, Spanish, French, German, Italian, Portuguese, and Catalan.

---
PAST EVENTS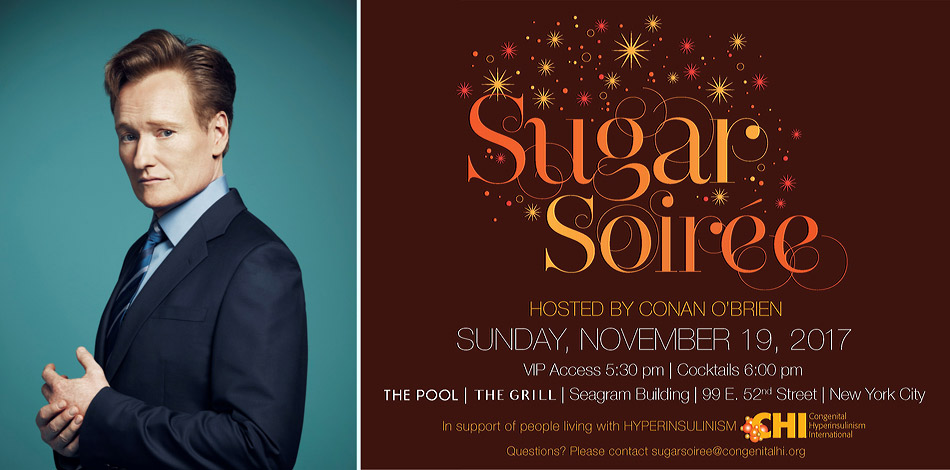 Congenital Hyperinsulinism International (CHI) held its annual Sugar Soirée, hosted by Conan O'Brien, on November 19, 2017 at the Pool and the Grill Restaurants in the Seagram Building, in New York City. With your generous support, the 2017 Sugar Soirée was a great success. With 290 people in attendance and many more donating in honor of the event or participating in the auction, we are overwhelmed by your generosity.
Please note: We are still accepting donations!
Please click here to learn more about the highlights of this event.
---