Rare Disease Day, this year on Tuesday, February 28, is a day that celebrates and amplifies the voices of those living with rare diseases and people who advocate for them. While at CHI, we strive to do this every day of the year; Rare Disease Day is important because it unites members of the rare disease community for one day of global efforts to raise awareness and advocate.
In honor of Rare Disease Day, we want to know: what do you dare to dream? We asked members of our Collaborative Research Network this question last year, and now we are asking our whole community to share their dreams.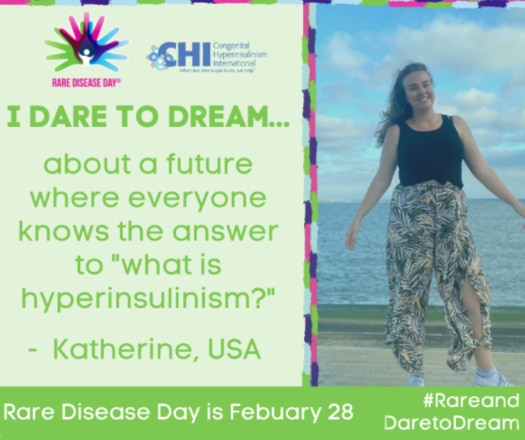 We want to celebrate your dreams and raise awareness about congenital hyperinsulinism (HI) leading up to Rare Disease Day this year by sharing why community members are #RareAndDareToDream. You can share dreams related to research or treatment goals for HI, wishes for future occupations, plans for hobbies, or anything else.
Steps to participate:
1. Finish the following statement: "I dare to dream …"
2. Pick a recent photo of yourself (alone or with a loved one) OR record yourself sharing your dream on your phone and send us the video.
3. Email the completed statement and photo or video to klewis@congenitalhi.org with an acknowledgment that it is okay for CHI to share on our website and/or social media.
Participation in this campaign not only helps us celebrate the community but plays a vital role in raising awareness for HI – so that one day, a future without lows isn't just a dream but a reality.
Show your stripes!
You can order a 2023 CHI Rare Disease Day T-shirt now on Bonfire – 25% of proceeds will go towards CHI. If you order by Friday, February 3, 2023, the t-shirts should arrive by February 23! International delivery may take longer.


We will be having a free virtual event via Zoom on Rare Disease Day at 12:30 Eastern US Time. We hope you can join us to celebrate!
Event details will be shared in the coming weeks, so please follow us on social media for updates and register here: https://bit.ly/3HeOZGX