A collaborative research network (CRN) is a network of patients and families, physicians, researchers, and patient organizations working together to accelerate research and cures for a particular disease. The CHI CRN builds on the work and momentum of the research done by many experts around the world and our own patient-powered research through the HI Global Registry. The CHI CRN will continue to build on existing projects by forming new partnerships to increase collaboration across institutions and organizations.
Click here to read more about the CHI Collaborative Research Network.
---
HIlights: Year in Review 2020

Despite the pandemic, this has been one of the busiest, most productive years on record for Congenital Hyperinsulinism International (CHI). Please read our 2020 HIlights Newsletter here.
You can also read more about our year in review from CHI's Executive Director Julie Raskin in her 2020 year end letter here.
---
The CHI Centers of Excellence (COE) Program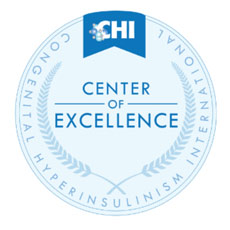 We are thrilled to announce the launch of the Congenital Hyperinsulinism International (CHI) Hyperinsulinism Centers of Excellence (COE) Program. The CHI COE Program will designate specialist facilities providing the highest quality of care for hyperinsulinism (HI) patients and their families around the world.
Every year, around the globe, thousands of babies are born with HI. They need appropriate and expert care to reduce the risk of brain damage and death and to ensure proper management of their disease for the best possible quality of life, as do all children and adults living with HI.
There are some superb institutions known for providing excellent HI care and participating in groundbreaking research, yet until now there has not been a review process or certificate awarded to institutions for the care of those with HI.
Click here to read more about this program.
---
The 2020 Sugar Soirée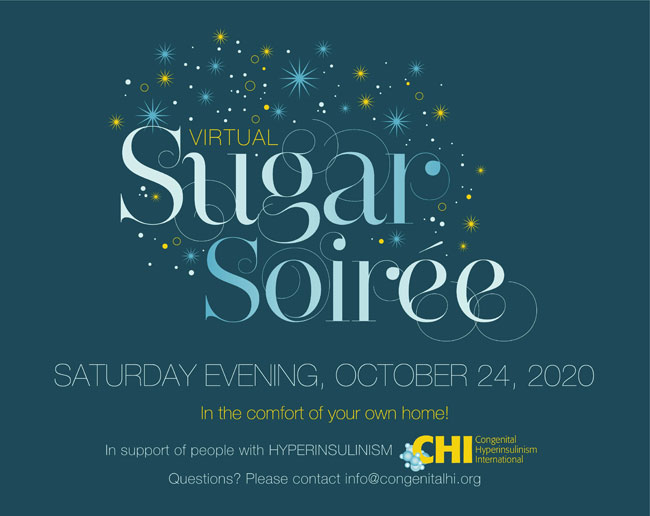 The 2020 Sugar Soirée was held on Saturday, October 24, 2020, and was a virtual event, which allowed attendees to experience it in the comfort of their own homes!
The Sugar Soirée was a wonderful opportunity to support a meaningful cause while enjoying a unique entertainment experience. The Soirée brought CHI supporters together to celebrate the strength of the community and to raise funds to improve the lives of children and adults born with congenital hyperinsulinism (HI) and their families.
Click here for the 2020 Sugar Soirée Recap.


---
HI Global Registry 2020 Annual Report Now Available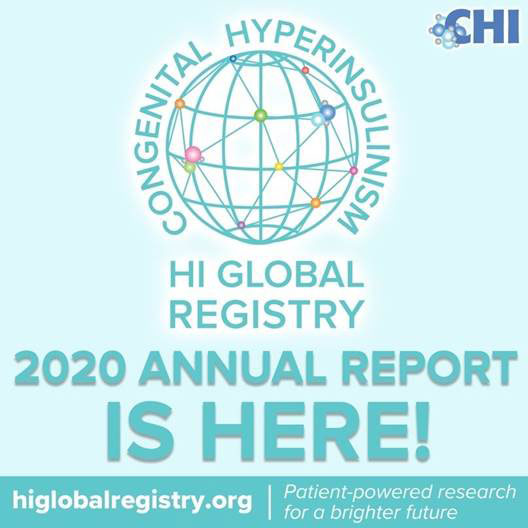 The HI Global Registry 2020 Annual Report is now available and provides insight into the HI experience as reported by participants of the HI Global Registry (HIGR). HIGR is the first global patient-powered congenital hyperinsulinism patient registry and consists of a series of thirteen surveys made up of questions related to a patient's HI experience over their lifetime. The analysis and descriptive statistics shared in the report are based on the responses that participants provided from HIGR's launch in October 2018 through February 2020. This includes individuals living in 45 countries and participants ranging from just a few weeks of age to 58 years old.
Click here see the 2020 Report, or click here to learn more about the Registry.
---
COVID-19 Information for the HI Community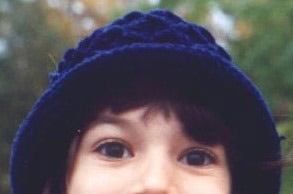 With the global COVID-19 pandemic transforming our everyday lives, Congenital Hyperinsulinism International (CHI) is making information available to the HI community.
We have been contacted by a number of families with concerns about how the COVID-19 pandemic could affect children with HI. We reached out to a few leading specialists to answer this question. In reading their responses, please keep in mind that the information about the virus will continue to be updated, and this information is based on what we know as of April 3, 2020.
Click here for information from leading specialists on COVID-19 and the HI Community, including a collection of resource links to more information.
---
CHI receives a Rare As One Network Grant

Congenital Hyperinsulinism International is thrilled and humbled to announce that we are one of 30 rare disease organizations to receive a Rare As One Network grant of $450,000, distributed over two years, from the Chan Zuckerberg Initiative. This grant will allow us to work with the patient and scientific community to create a patient-led sustainable, lasting structure to prioritize and execute an international research agenda to better understand congenital hyperinsulinism (HI), identify new ways to improve the lives of those living with HI, reduce the incidence of irreversible brain damage, detect the genetic causes of HI types not currently known; and to find cures for each and every type of HI. Over the next few months we will learn much more about the resources available to build the network. We will be in contact with our CHI family partners and the scientific and medical community about collaborating on this exciting project.
Read more at the Press Release here.
---

CHI receives a Global Genes Rare Patient Impact grant for RARE Innovation. Click here or on the image to read the press release about this grant award.


---
CHI Announces HIHA Grant Award of $70,000

Glen Ridge, NJ, May 20, 2019 – Congenital Hyperinsulinism International (CHI) is thrilled to announce the award of $70,000.00 for a one-year pilot grant to Dr. Amanda Ackermann at the Children's Hospital of Philadelphia. With this grant funding, Dr. Ackermann will create a Novel Mouse Model to Investigate Pathophysiology of Hyperinsulinism/Hyperammonemia Syndrome (HIHA). The understanding that will come from creating and studying this mouse model is needed to develop treatments for high blood ammonia levels, seizures, and neurodevelopmental differences caused by HIHA.
The grant was competitively bid internationally, and Dr. Ackermann's project was selected after a careful review of applications by an expert review panel made up of renowned endocrinologists and family members of patients. The committee carefully evaluated the applications, which were all excellent.
"I appreciate the focus and dedication to addressing the neurological effects in patients with HIHA. As a parent with a (now adult) child with HIHA, I am passionate about finding alternative treatments for HIHA. Other therapies are needed, and I strongly feel this this researcher is acutely aware of this need."
– Dina Tallis, EdD, Parent Reviewer of applications.
"The investigator is highly qualified, well trained and in an excellent position to accomplish this project. In my opinion, this project is very appropriate for pilot funding in that it aims at developing a new animal model for this disease that will then be made available to the entire research community for further study of all aspects of this disease. This will be a very valuable resource whose overall impact will extend far beyond this specific grant proposal."
– Benjamin Glaser, MD, Professor Emeritus, Hadassah-Hebrew University, Expert Endocrinologist Reviewer of applications.
Read the full Press Release here.
Click here for a PDF version of the Grant topic and overview.
---
Watch our video to learn about hyperinsulinism and the children and families who live with it. The video emphasizes the importance of early diagnosis, research, and support for hyperinsulinism families.
---
New! CHI "What is Congenital Hyperinsulinism" Posters
Informational posters in 20 different languages, available for download and printing on our CHI Posters page.

---