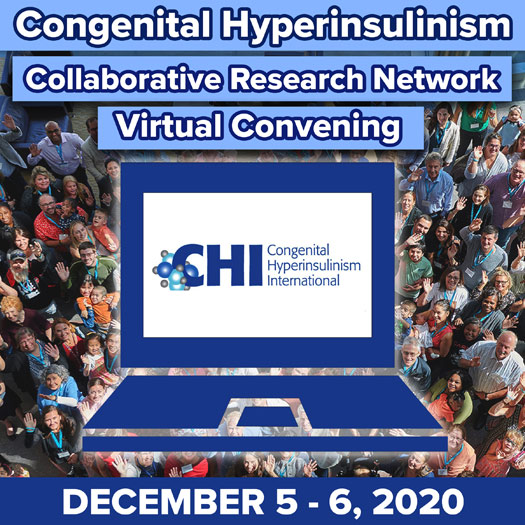 CHI is pleased to announce that our second Virtual Congenital Hyperinsulinism International conference will be opening soon (registration is now closed). This event is called the Congenital Hyperinsulinism Collaborative Research Network (CRN) Convening and will take place the weekend of December 5 and 6, 2020.
If you have registered for the CHI Collaborative Research Network Virtual Convening, you can access the website here: https://bit.ly/CHI_2020_Convening. The website will open at 9:00 AM Eastern US time on Saturday December 5, 2020. Please login early to be sure you can navigate the site smoothly. The first session will start promptly at 11 AM EST. You can use the email address you registered with to log in.
At this very interactive event, you will have an opportunity to learn about research opportunities on the topic of congenital hyperinsulinism. We will begin the work of creating a patient-led sustainable, lasting structure to prioritize and execute an international research agenda to better understand congenital hyperinsulinism (HI), identify new ways to improve the lives of those living with HI, reduce the incidence of irreversible brain damage, detect the genetic causes of HI types not currently known; and to find cures for each and every type of HI. You will also have a once in a lifetime opportunity to be at the first CHI Collaborative Research Network convening.
As at all CHI conferences, you will have an opportunity to interact live with the leading congenital hyperinsulinism world experts and other CHI families.
The working hours of the Convening are 11:00 AM – 2:30 PM, ET on December 5, and 11 AM – 3:30 PM, ET on December 6. There are also excellent opportunities for learning and networking prior to the sessions and afterwards, on both days. There will be booths where you can learn more and speak directly with people developing potential new treatments for congenital hyperinsulinism. There will also be socially engaging activities.
At this initial convening we will introduce the concept of the CRN, share its mission and goals, and get to work with you on developing a prioritized research agenda for HI by beginning the process of visioning and brainstorming.
After this initial convening, seven different working groups on different important research topics will be established. The working groups will lay the groundwork for the development of a prioritized research agenda and a plan to sustain it. The working groups will gather 4 times in 2021 (most likely virtually due to COVID) and members of the working groups will convene, in person, in 2022 in the US or Europe. After this initial convening, we will send out information on the ongoing working groups.
For the initial convening next month, in addition to the brainstorming research work, we will have a session for patient families in which, the families will be in sessions based on the type of HI their family lives with. For the rarer forms of HI, these groups will be very small, but we think it will be very meaningful for families to connect this way, by type. If you do not see your type or a type you know of listed below, please reach out to us.
The groups are:
Diazoxide Responsive Negative Genetics Diffuse
ABCC8/KCNJ11 Non Diazoxide Responsive
ABCC8/KCNJ11 Diazoxide Responsive
HIHA
GCK HI
Focal HI
HNF1a and 4a Defects
MCT-1 HI
SCHAD-HI
UCP-2 H
Kabuki Syndrome
Turner's Syndrome
Beckwith-Wiedemann Syndrome
Sotos Syndrome
Rubenstein Taybi Syndrome
HI -> Ketotic Hypoglycemia
HI -> Diabetes
Unknown Type
Other sessions will include: CHI Research: How Far we Have Come that will include presentations from the Lead Researcher of the CHI CRN, Diva D. De León-Crutchlow, MD and the Lead Clinician of the CRN, Paul Thornton, MD; What is your vision for HI? That will cover topics such as Medical and Surgical Treatments, Care Guidelines/Centers of Excellence, Diagnostics, Glucose monitoring, Clinical trials/Industry Engagement, Genetics, Infrastructure/Sustainability; Updates on Clinical Trials and more.
This project is made possible by Rare as One Network of the Chan Zuckerberg Initiative (CZI). The initial virtual convening is made possible by CZI, Rezolute, Crinetics Pharmaceuticals, Zealand Pharma, and generous individual donors to CHI.
We are so excited about this project and cannot wait to share many more details with you and bring you into the process so your ideas and knowledge can contribute to the work. Thanks to the generous donations of our sponsors, there is no cost for attending this event.
If you have any questions or need more information, please email Jennifer Schmitt at [email protected]
Click here to view the draft agenda.
Call for Videos by People with HI and their Families: We are hoping to create a video library, including a compilation video for this convening, that includes short videos featuring all types of HI! We want to make sure as many different types and experiences are represented. We are hoping to hear from individuals or parents whose children have the types of HI Listed above – click here if you are interested in learning more.
Sponsors, as of 11/6/20:
Sweetest Sponsors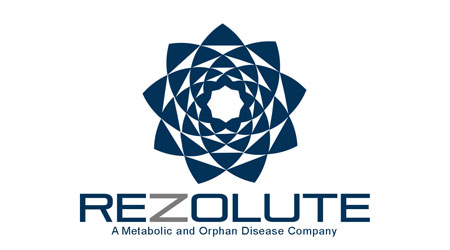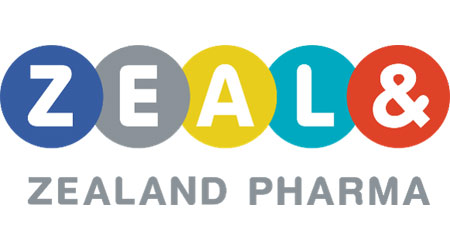 Platinum Sponsor

Gold Sponsor

Silver Sponsor

Project Sponsor