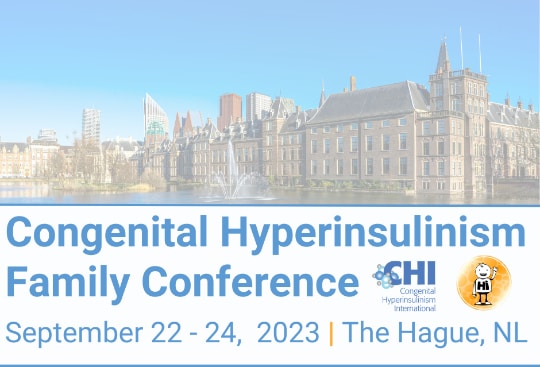 Congenital Hyperinsulinism International (CHI) and Kongenitaler Hyperinsulinismus e.V. are excited to announce our partnership to host the 2023 Congenital Hyperinsulinism Family Conference in The Hague, Netherlands. It will take place from September 22 – 24, 2023.
Registration is open – jump ahead here.
Like our past family conferences, it will be a weekend full of connection and collaboration among members of our HI community. Physicians, researchers, geneticists, patient advocates, HI patients, and more members of our HI communities will present research and stories.
Family conferences are a unique opportunity for our community, which is spread worldwide, to gather and celebrate research and goals and share personal challenges, triumphs, struggles, and dreams. We hope you can join us!
All conference sessions will take place at The Hague Marriott, Johan de Wittlaan 30, 2517 JR. If you would like to stay at the Hague Marriot during the conference, all hotel room reservations must be made through CHI on our registration form to get the group rate of €205/single and €221/double per night (breakfast included). If there will be more than 2 people in a room, you will need a Family Room for €275/night. You will pay for your room upon arrival at the hotel.
Scholarships
There are limited hotel scholarships for HI families needing financial support and traveling from out of town to stay at the hotel the nights of September 22 and 23 while attending the conference. If awarded a scholarship, CHI will reserve the rooms for these families. Apply today.
Conference topics include:
Hyperinsulinism Global Advocacy
The Role of Advocacy in Advancing Compassionate Care for Children with HI
Current and Future Medical Treatments
Learning about Clinical Trials from People in the Biotechnology Field
Ask the Experts
Feeding and Eating
Quality of Life
Congenital Hyperinsulinism (HI) in the Netherlands
Confirmed Speakers:
Thank You to Our Sponsors & Donors
Thanks to generous sponsors and donors, registration for the conference is free for all HI families, patients, doctors, and researchers, including program registration and admission to all conference sessions, lunch and dinner on Saturday, and lunch on Sunday.
Registration is open: