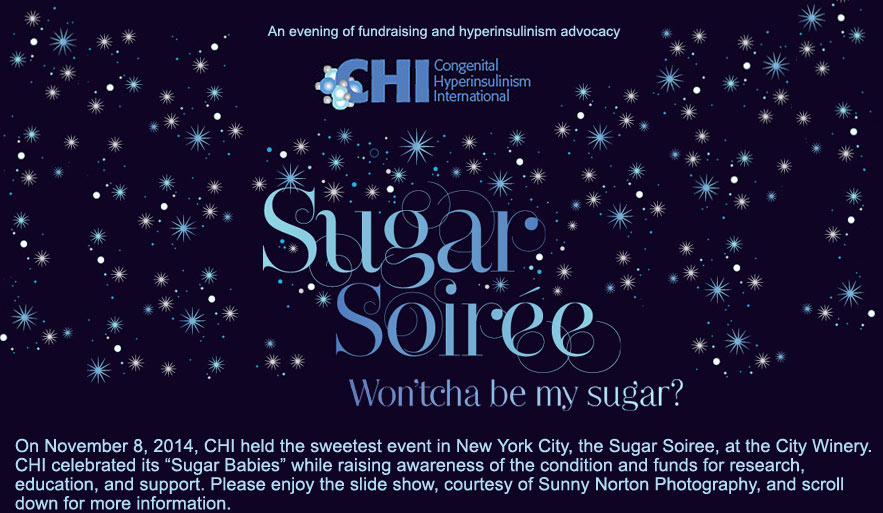 CHI's inaugural Sugar Soiree event took place on November 8, 2014 at the City Winery in New York City. CHI celebrated its "Sugar Babies" while raising awareness of the condition and funds for research, education, and support. Abby Huntsman, MSNBC's Host of The Cycle, was the Master of Ceremonies for the evening. Dr. Charles Stanley was presented with a lifetime achievement award for his extraordinary dedication to patients and the study of hyperinsulinism. CHI also premiered its new film on HI, directed by award winning documentary filmmaker, Laura Naylor. Musical entertainment was provided by pianist Jenny Naylor Richards and mezzo soprano Sylvia Szadovski.
Sarah-Charlotte Browne, Chairman of the Sugar Soiree, and the newest member of the CHI Board of Directors said: "Our first Sugar Soiree was a huge success! The evening was truly magical. Abby Huntsman did an incredible job as Master of Ceremonies and the new CHI film is amazing! Thank you so much to everyone who came out and supported the Soiree, we are thrilled to have galvanized new supporters to help raise hyperinsulinism awareness, and funds for CHI. The Soiree was a truly fabulous time!"
"It was such an honor for me to give Dr. Charles Stanley his lifetime achievement award. He is a true giant in the field," said Julie Raskin, Executive Director of CHI. "Sarah-Charlotte Browne and the Sugar Soiree Event Committee did a fabulous job making the evening sparkle! What a feeling to be surrounded by more than 200 people committed to our cause. We are so grateful to all who came out to support CHI," she continued.
The Presenting Sponsor of the event was BioMarin. Other sponsors included The Children's Hospital of Philadelphia, Cook Children's Medical Center, XOMA, the Susquehanna Foundation, Mary and Timothy Williams, Quest Diagnostics, Xeris, Novartis, MarieBelle, Stieber's, and Valrhona.
CHI is a leading nonprofit dedicated to improving the lives of children and adults living with congenital hyperinsulinism (HI). CHI provides a world of information, resources, and support to the HI community. CHI advocates on behalf of patients for better treatments and access to care. CHI is dedicated to increasing awareness of the disorder, as it leads to more timely diagnosis and the best outcomes for patients. CHI supports medical research for improved therapies, potential cures, and timely diagnosis. CHI works globally because cooperation across borders fosters important advances in medicine.