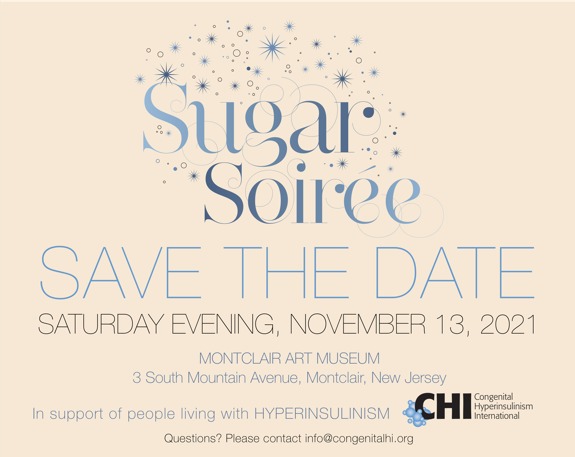 CHI is happy to announce the 2021 Sugar Soirée will take place on Saturday, November 13, 2021, in Montclair, NJ, at the Montclair Art Museum, just a few miles from the CHI world headquarters. Please save the date to join us in celebrating the congenital hyperinsulinism community and the resounding accomplishments and achievements of the year.
Our wish is that it will be safe to hold an in-person event this fall; however, we continue to assess the situation. If necessary, we will pivot to an entirely virtual event. No matter the setting, it will be a memorable evening.
Montclair is a beautiful town full of fascinating history, great restaurants, shopping, and a fantastic art museum that first opened in 1914 that will be the setting for the 8th annual Sugar Soirée. It is about 12 miles West of New York City and a short drive from Newark Airport – easy to get to from anywhere in the world.
We have secured a block of rooms at the MC Hotel, within walking distance of the event venue, that can be reserved at a discounted rate through September 3, 2021. You can book your room here.
Please save the date and watch for our emails with more details and a link to purchase tables and tickets to the 2021 Sugar Soirée that will be coming soon.
To join our email list, click here.