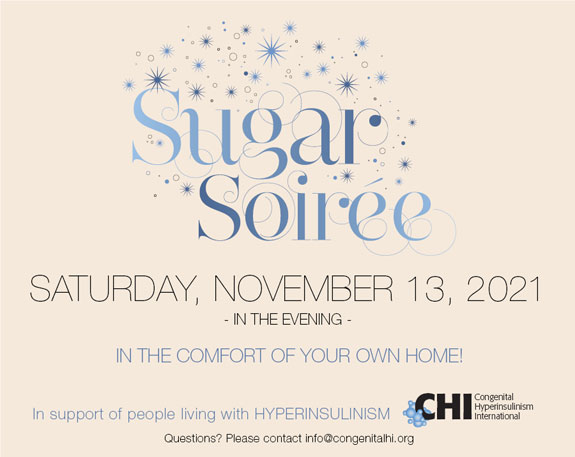 Congenital Hyperinsulinism International's (CHI) annual Sugar Soirée brought CHI supporters together to celebrate the strength of the community and to raise funds to improve the lives of children and adults born with congenital hyperinsulinism (HI) and their families. This year's Sugar Soirée was a virtual event, and we welcomed your online presence.
CHI is a global lifeline to those born with (HI). We strongly believe in a bright future for babies, children, and adults, where HI is promptly diagnosed, and those with HI do not suffer preventable brain damage or death. We are equally focused on new treatments and a cure, so people with HI can lead full and long lives not ruled by blood sugar level, where they can eat normally and participate in all the activities they choose.
A "future without lows" will happen when everyone born with HI has access to medication, surgery, blood sugar testing supplies, or a cure. Our vision is to end brain damage and death from the condition and for HI families to live without fear of hypoglycemia.
Funds raised at the Sugar Soirée will support the work of CHI to:
Raise vital awareness of HI to end preventable brain damage and death from low blood sugar.
Fund CHI research for better treatments and a cure.
Help patients gain access to specialized treatment, medications, supplies, and support those living with the disease and their families every step of the way.
The virtual event space included the main stage where Turaya Bryant Kamau, Broadcast Producer for CBS Saturday Morning, was our MC. Turaya is an accomplished broadcast journalist, mother, college professor, and CHI Board Member.
At 7:00 PM, the virtual event space opened. Turaya and the CHI team had a "short and sweet" interactive and entertaining gala, including the award ceremony and 2021 highlights.
This year CHI awarded the seven institutions that received the inaugural Centers of Excellence (COE) Designation with the Be My Sugar Centers of Excellence Inaugural Award. This honor recognizes expert centers that provide the highest level of multi-disciplinary care to congenital hyperinsulinism patients and their families and an ongoing commitment to research and collaboration.
The CHI COEs are the:
Congenital Hyperinsulinism Center at the Children's Hospital of Philadelphia, PA, United States
Hyperinsulinism Center at Cook Children's Medical Center in Fort Worth, TX, United States
Great Ormond Street Hospital Congenital Hyperinsulinism Service in London, in the United Kingdom
Charité – Universitätsmedizin Berlin and the University Children's Hospital Duesseldorf partnership in Germany
Collaborative Alliance on Congenital Hyperinsulinism headquartered in Magdeburg, Germany
Northern Congenital Hyperinsulinism Service in Manchester and Liverpool, in the United Kingdom
We are also thrilled to have honored Nomi and Michael Plaut with the Be My Sugar Extraordinary Fundraising Award. Nomi and Michael, who reside in northern New Jersey, hold the record for Million Dollar Bike Ride fundraising. They joined the team for the first time this year, and in just a few weeks, raised funds from 185 supporters!
We are also delighted to have honored Lena Mikacich and Julie Elbaum with the Be My Sugar Extraordinary Volunteer Award. Separately, these two teenagers reached out to CHI because they wanted to make a difference. Never having met, they agreed to work together on various projects, and ever since, they have been sharing their stories, raising awareness, and fundraising. Along the way, they became great friends.
The event space also included Sugar Soirée sponsor exhibitions, silent auction items, and opportunities to socialize and share photos from afar.
Before the event, all VIP and Patron ticket holders received a Sugar Soirée gift basket with delicacies customized by Manhattan Fruitier, to be enjoyed on the evening of the Sugar Soirée.
---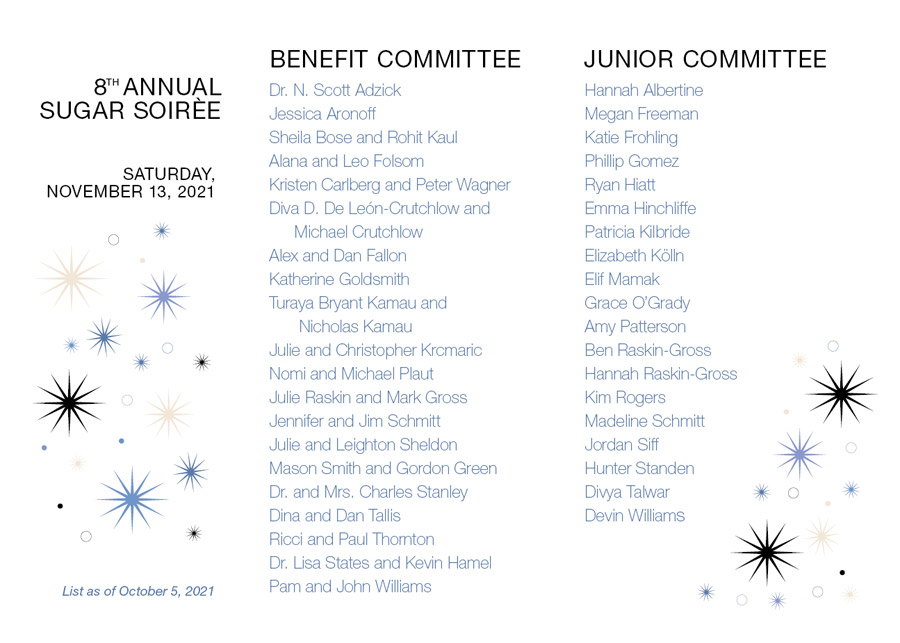 ---