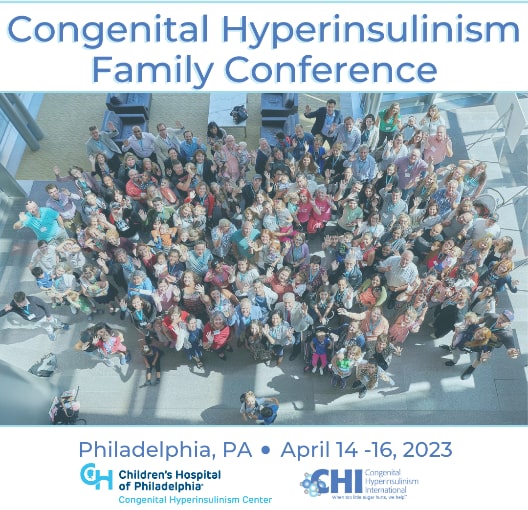 We are excited to announce that registration for the 2023 Congenital Hyperinsulinism Family Conference is open! The conference is being organized by Congenital Hyperinsulinism International (CHI) and the Children's Hospital of Philadelphia (CHOP).
Jump ahead to the registration here.
The CHI staff, the CHOP Hyperinsulinism Center team, additional world-renowned physicians, researchers, congenital hyperinsulinism (HI) specialists, HI family members, and CHI advocacy leaders will be presenting at the conference. There will also be interactive sessions where HI families can share their stories and experiences.
The CHI Family Conferences are a fantastic opportunity to learn more about all aspects of the condition and to meet and get to know members of the global HI community. It is also an excellent opportunity for HI families to meet and share their experiences.
The conference will start with a welcome reception at the Philadelphia University City Sheraton hotel on Friday evening, April 14, 2023. Conference sessions will take place on the CHOP Campus during the day on Saturday, April 15, and Sunday, April 16. Saturday, there will be a conference dinner for all attendees as well.
There will also be special programming for young adults, teens, and children, as well as babysitting, available during conference sessions.
Conference topics may include:
New Hyperinsulinism Guidelines
Understanding your Genetic Report
Current HI Treatment Options
Patient-Powered Research: The HI Global Registry
Updates on New Investigational Studies
Ask the Experts Panels
Confirmed Speakers – as of December 13, 2022:
Indi Banerjee, BBS, MD, MRCPCH, Pediatric Endocrinologist, Royal Manchester Children's Hospital, Clinical Lead for the Northern Congenital Hyperinsulinism Service (NORCHI)
Linda Boyajian, MSN, CRNP, Pediatric Nurse Practitioner, CHOP
Antonia Dastamani, MD, PhD, Pediatric Endocrinologist, Lead, Congenital Hyperinsulinism Service, Great Ormond Street Hospital for Children
Diva D. De León-Crutchlow, MD, MSCE, Chief of the Division of Endocrinology and Diabetes and Director of the Congenital Hyperinsulinism Center, CHOP
Susann Empting, MD, Pediatric Endocrinology, Otto-von-Guericke University Magdeburg
Jennifer Kalish, MD, PhD, Assistant Professor of Genetic and Pediatrics, CHOP, University of Pennsylvania Perelman School of Medicine
Katherine Lord, MD, Pediatric Endocrinology, HI, CHOP
Heather McKnight, MSN, BSN, BA, CRNP, Pediatric Nurse Practitioner, CHOP
Klaus Mohnike, MD, Pediatric Endocrinologist, Professor at Otto-von-Guericke University Magdeburg
Tai Pasquini, PhD, Research and Policy Director, CHI
Julie Raskin, MA, Executive Director, CHI
Elizabeth Rosenfeld, MD, Pediatric Endocrinology, HI, CHOP
Show-Ling Shyng, MD, Professor of Chemical Physiology and Biochemistry, Oregon Health & Science University
Charles A. Stanley, Founder of the HI Center, CHOP, Professor Emeritus of Pediatrics, University of Pennsylvania Perelman School of Medicine
Nicole Stewart, BSN, RN, HI Nurse Coordinator, CHOP
Paul Thornton, MB, BCh, MRCPI, DCh, Medical Director of the Congenital Hyperinsulinism Center, Endocrine and Diabetes Program at Cook Children's Medical Center
Timo Otonkoski, MD, Ph.D., Professor of Medical Stem Cell Research 
Children's Hospital
Registration
Thanks to generous sponsors and donors, registration for the conference is free for all HI families, patients, doctors, and researchers, including program registration and admission to all conference sessions, lunch and dinner on Saturday, and lunch on Sunday.
We ask that you register here as soon as possible but no later than April 1, 2023.
Hotel Information
CHI has reserved a block of rooms at the Sheraton Philadelphia University City Hotel. Participants can make room reservations by using this link – Book your group rate for Congenital Hyperinsulinism International – or by phoning the Reservations Office at the Sheraton Philadelphia University City Hotel at 215-387-8000. The name of the room block is Congenital Hyperinsulinism International. The rate is $209.00 per night (excluding tax, fees, and parking) on Friday, April 14, and Saturday, April 15. To get the group rate, room reservations must be made before March 24, 2023.
Scholarships
There are limited scholarships for HI families needing financial support and traveling from out of town to stay at the hotel the nights of April 14 and 15 while attending the conference. Families interested in these scholarships should indicate this on their registration form and fill out our online scholarship form by March 1, 2023. If awarded a scholarship, CHI will reserve the rooms for these families.