Congenital Hyperinsulinism International (CHI) and the Childrens Hospital of Philadelphia (CHOP) are hosting the 2019 CHI Family Conference in Philadelphia, PA on September 6-8, 2019. The conference will take place at the Colket Translational Research Building at CHOP located at 3501 Civic Center Blvd, Philadelphia, PA 19104 and the Sheraton Philadelphia University City located at 3549 Chestnut Street, Philadelphia, PA 19104.
The CHOP Hyperinsulinism Center team, additional world-renowned physicians, researchers, and congenital hyperinsulinism (HI) specialists, HI family members, and CHI advocacy leaders will be presenting at the conference. There will also be interactive sessions where HI families will have opportunities to share their stories and experiences. The family conferences are a fantastic opportunity to learn more about all aspects of the condition and to meet and get to know members of the global HI community.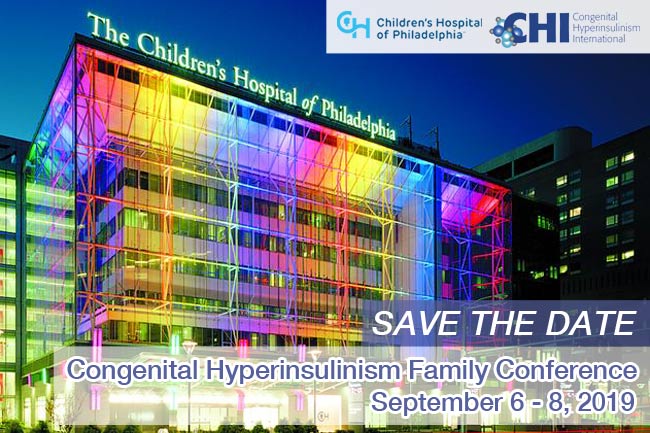 Conference activities include:
Welcome Reception and a book reading by the author of Sugarblind by Richard Sonnenmoser
HI Community Reception and Dinner
Many Networking Opportunities
Conference topics include:
Understanding the Role of Insulin in the Human Body
Understanding the Underlying Causes of Hyperinsulinism
Understanding your Genetic Report
Current HI Treatment Options
Learning about the Different Types of HI
Patient Powered Research: The HI Global Registry
Surgery and the PET Scan
Updates on New, Investigational Studies
Safety and Cure Fasts
Managing HI at School
Feeding Issues and Nutrition
HIStories – Sharing your Stories
Small break-out sessions on many important HI topics
Speed Dating with the Specialists – Get Your Questions Answered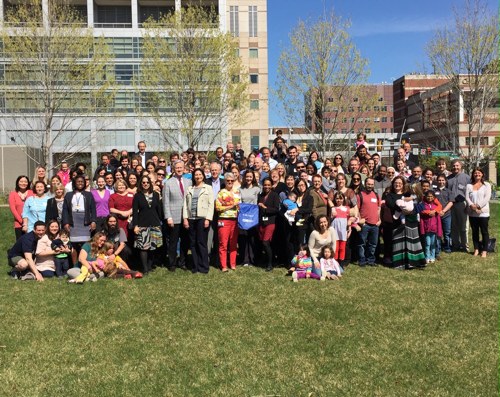 Confirmed Speakers for 2019 CHI Family Conference Philadelphia
Amanda Ackermann, MD, PhD – Pediatric Endocrinology, HIHA
N. Scott Adzick, MD, MMM, FACS, FAAP – Surgery
Sarah Barnes, MS – Diet and Nutrition
Susan Becker, BSN, RN, CCRC – Research
Amanda Bennett, MD, MPH – Developmental Pediatrics
Linda Boyajian, CRNP – Pediatric Endocrinology, HI
Liesje N. Carney, CSP, LDN, Diet and Nutrition
Henrik Christesen, MD, Pediatric Endocrinology, HI
Sherri Cohen, MD, MPH, FAAP, Feeding
Nicholas Cole, HI Community Speaker
Courtney Copsey, HI Community Speaker
Ed Damiano, PhD, Beta Bionics
Diva D. De León-Crutchlow, MD, MSCE, Pediatric Endocrinology, HI
Brian Grant, BSN, RN, CDE, CPT, Technology and Devices
Davelyn Hood, MD, MBA, HI Global Registry and HI Patient Advocacy
Jennifer Kalish, MD, PhD, Genetics and Syndromic HI
Stephanie Leonetti, LSW, Social Work
Katherine Lord, MD, Pediatric Endocrinology, HI
Asim Maqbool, MD, Gastroenterology
Heather McKnight-Menci, CRNP, Pediatric Endocrinology, HI
Julie Raskin, MA, HI Patient Advocacy and HI Global Registry
Ben Raskin-Gross, HI Community Speaker
Richard P. Sonnenmoser, MA, Writing
Charles A. Stanley, MD, Pediatric Endocrinology, HI
Lisa States, MD, PET Scan and Radiology
Nicole Stewart, RN, Pediatric Endocrinology, HI
Dina Tallis, EDD, HI and School
Paul Thornton, MD, Pediatric Endocrinology, HI
Kathleen Ackermann Wegener, MS, HI and School
The first event of the weekend will be a Meet and Greet Friday, September 6 from 6-7:30 pm followed by Richard Sonnemoser reading from Sugarblind, a memoir about becoming a father – first to sick child and then a healthy one.
The Conference sessions will begin at 9 AM Saturday, September 7 and will end on Sunday, September 8 at 3 PM.
The registration for the conference is $50 per adult and teenager, which includes program registration and admission to all conference sessions, lunch, and dinner on Saturday, and lunch on Sunday. The registration for children 12 and under is free. There is a family rate of $100 for families of 2 or more adults and teens, including any children under 12 of course.
There will be babysitters at the conference to watch children while parents are attending conference sessions. Children will join their parents for snacks and meals, and parents will be responsible for all medical care. If you are interested in babysitting, please register for the conference and indicate that need by August 6, 2019.