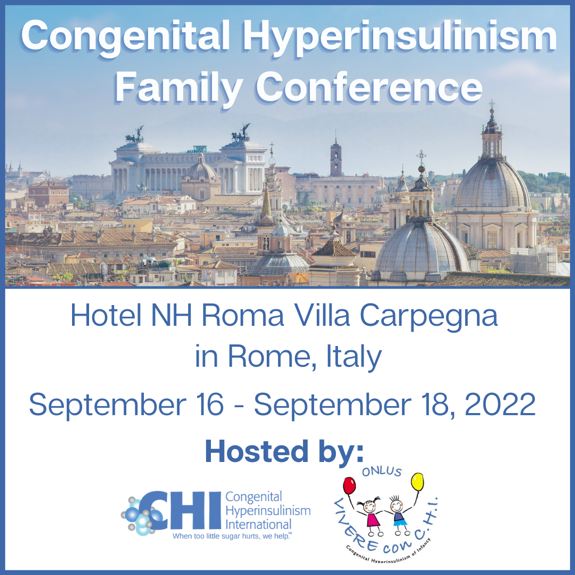 On September 16-18, 2022, Congenital Hyperinsulinism International (CHI), in partnership with Vivere con CHI, will hold the 2022 Congenital Hyperinsulinism Family Conference in Rome, Italy. The conference will feature world-renowned physicians, researchers, and specialists who treat children with congenital hyperinsulinism (HI), as well as parent and patient advocacy leaders. There will be opportunities for HI families to meet and share their experiences with other HI families. The CHI Family Conferences are a fantastic way to learn more about all aspects of the condition and to meet members of the global HI community.
The conference will be held at the NH Roma Villa Carpegna, Via Pio IV, 6, 00165 Rome, Italy. Set just outside Rome's bustling center, the hotel offers the perfect balance between city action and suburban tranquility located near the Vatican City State, St Peter's Basilica, and other neighborhoods such as Trastevere. Surrounding the hotel is a private park, making it pretty and peaceful, and it's a 15-minute walk to the metro station. The hotel's large outdoor pool is the perfect place to cool off after a day spent learning and sharing during the CHI Family Conference.
The Conference weekend will begin with a welcome reception and dinner on Friday evening from 18.00 to 21.00. The conference sessions begin at 9.30 on Saturday 17.9.2022. There will be a hyperinsulinism community dinner at the hotel for all conference attendees on Saturday at 18.00. The final day of the conference begins at 9.00 on Sunday 18.9.2022 and will end with an optional lunch that will begin at 12.00.


Agenda Topics will Include:
Dare to Dream: A Vision for a Future without Lows
Presenter: Charles Stanley, Children's Hospital of Philadelphia, USA
Congenital Hyperinsulinism (HI) in Italy Diagnosis, Treatment, Patient Advocacy
Presenter: Arianna Maiorana, Bambin Gesu' Hospital, Rome
Presentations on the HI Global Registry and the CHI Collaborative Research Network
Presenters: Julie Raskin and Mahlet Mesfin
Learning the Genetic Causes of HI and Understanding your Genetic Report
Presenter TBD
Management of HI after Diagnosis and Treatment Regimen has been Established:

When is a Change in Management Needed to Reduce Hypoglycemia?
When can Medical Treatment/Carbohydrate Therapy be Stopped?
When is a Change in Management Needed to Reduce Hyperglycemia?

Presenter: Diva De Leon-Crutchlow, Children's Hospital of Philadelphia, USA
Glucose Monitoring in Congenital Hyperinsulinism:

Do HI Patients Benefit from using CGMs?
Are CGMs used in Scientific Studies?

Presenters: Antonia Dastamani, Great Ormond Street Hospital, London and Indi Banerjee, Royal Manchester Children's Hospital, UK
Feeding and Eating:

Should Diet Play a Role in Managing Congenital Hyperinsulinism by HI Type?
What are Strategies to Help with Feeding Issues?

Presenter: Sara Osimani, Milan Ospedale San Raffaele
Biotechs on the Move: Treatments in Development

Rezolute
Crinetics
Eiger BioPharmaceuticals
Hanmi
Zealand Pharma
Hyperinsulinism 101: Ask the Experts
TBD
Compassionate Care for Children with HI
Presenter: Sir Albert Aynsley-Green
Living with HI – Our Stories:
Vivere Con CHI presentation followed by presentations from HI families in Italy
*CHI will update this information as it changes.
There will be English – Italian translation available during all conference sessions, except for the small breakouts groups.
Babysitting will also be available during conference sessions. Please be sure to include your children's age(s) when registering for the conference.
Conference Costs:
Thanks to our generous sponsors: Rezolute, Crinetics, Eiger Biopharmaceuticals, Hanmi, and Zealand Pharma, and other generous donors, this conference is free of charge.
Meals:
All meals are included: two coffee breaks and lunch will be served on both days, and dinner on Friday and Saturday night. If you are staying at the NH Roma Villa Carpegna, breakfast is included with your room.
Scholarship Information for HI Families/People with HI to Cover Hotel Costs:
There are a limited number of scholarships for HI families who are coming from outside of Rome to stay at the hotel on the nights of September 16 & 17, 2022, while attending the conference. Families interested in these scholarships should register for the conference as soon as possible (and no later than August 15, 2022) and indicate they would like to be considered for a scholarship on their registration form. CHI will be in touch with more information about the scholarship as quickly as possible.
Hotel Room Information:
A limited block of rooms have been set aside at a group rate at the NH Roma Villa Carpegna. Singles are €155/night, and doubles are €175/night. Breakfast is included. If you choose to be a part of this group rate, you must complete the hotel information fields in the conference registration area below. Rooms will be paid for by individual guests at the time of check-in, unless you have received a Scholarship. The registration form below requires birth dates and passport numbers because they are required as part of the group reservation.