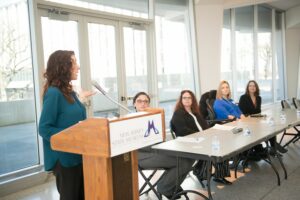 New Jersey is often referred to as the "Medicine Cabinet of the World" because many of the leading global pharmaceutical companies are headquartered in New Jersey. Yesterday, New Jersey was also a world hub for rare disease patient advocacy. On a sparkling spring-like day, we gathered at the New Jersey State Museum in Trenton for the 8th Rare Disease Day Event in Trenton, NJ. People living with rare diseases, their family members, rare disease advocates, legislators, members of the biotech, pharma, and other industry supporters all came together to share information, network, and learn from each other.
The morning was jam packed with interesting panels and speakers. The Keynote Speaker was Tammy Murphy, First Lady of New Jersey. Ms. Murphy shared grim statistics on maternal and infant mortality in New Jersey and her resolve to make conditions better. Ms. Murphy's important cause resonates with our rare disease community because of preventable deaths that also occur in our community, as a result of untimely diagnosis and lack of treatments. Ms. Murphy also presented the Governor's 2019 Rare Disease Day Proclamation signed by Phil Murphy, her husband, and the Governor of New Jersey.
The state legislators on the real-world advocacy panel shared their deep commitment to accessing quality and affordable healthcare and the importance of advocating for these issues. Jennifer McGarry, Regional Director of Advocacy for the Leukemia and Lymphoma Society moderated the discussion. Assemblyman Dan Benson, Assemblyman Adam Taliaferro, and Assemblywoman Nancy Munoz shared stories and experiences from their own. Assemblywoman Munoz is an advanced practice nurse and Assemblyman Adam Taliaferro has had serious medical issues to contend with. He jokingly referred to himself and Assemblywoman Munoz as the "patient and the nurse of the New Jersey legislature."
Assemblyman Dan Benson, the sponsor of the Out-of-Pocket RX Cost Bill S1865 and a longstanding advocate for access to quality and affordable healthcare, presented a resolution for the New Jersey legislature commemorating Rare Disease Day.
We also received an update on the Out-of-Pocket RX Cost from Steve Butterfield, Regional Director of Government Affairs for the Leukemia and Lymphoma Society. The bill A2431 and S1865 would help ensure all patients have access to affordable care by limiting out-of-pocket costs for prescription drugs, putting medically necessary treatments within reach of New Jersey patients.
Our second panel of the day was moderated by Stephanie Fischer, a leading rare disease patient advocate who is a member of the Rare Advocacy Movement. Ms. Fischer shared her personal experience with rare disease and how it has informed her career. The panelists focused on the importance of early diagnosis and the consequences of late diagnosis, the role of genetic testing in diagnosis, the need for new and better treatments, the impact of rare disease on families, and how rare diseases organizations can help.
Meghan Yarnall spoke about her daughter's diagnostic odyssey and not accepting autism as the diagnosis, which eventually led her to discover her daughter's medical and developmental issues are the result of the rare disease Lamb-Shaffer Syndrome, which in turn led her to found the organization Show Me Your Genes, to help people get access to genetic testing and fully understand the testing process. Kristen Smith who is the NJ Advocacy Chair of CureSMA shared her history with SMA, the difficulties of living independently, working, and commuting with a rare condition. Throughout her detailed presentation, Kristen showed her extraordinary ability as an advocate, and her mastery at conveying the complicated life a person with a rare disease leads. Amanda Levine spoke about the two rare diagnoses she has received in her life, the difficult road to a diagnosis of ALS, and the consequences of that late diagnosis, making it impossible to qualify for clinical trials. It was very moving to learn about how Amanda stays positive and lives a very full life, always with her teenage children in mind. I shared how personal stories can lead to organizing for research, support, and awareness, the excitement in our community over this week's first dosing of a medication in a phase three clinical trial in a child with congenital hyperinsulinism, and last year's launch of our patient-powered research project, the HI Global Registry.
Networking and connecting was a big part of the morning and lunch. Mothers with babies roughly the same age, and with the same rare condition, met for the first time! There were chronic disease advocates who came to support their rare allies. Those who typically interact only with others in their specific rare disease community were happy to come together to feel the support of those in the larger rare disease community. As is always the case at these events, the news from those who attend year in and year out was mixed; happy milestones for some, and sad news from others.
John Slotman of BioNJ, Wendy Lazarus of Pfizer, and Sam DeAlmeida of the American Cancer Society were instrumental in creating opportunities for members of the rare disease community to meet with legislators. In the afternoon we walked over to the State House and camped out in Committee Room One. We were visited by Assemblywomen Annette Chaparro of the 33rd District, Nancy Pinkin of the 18th District, Angela McKnight of the 31st District, and Christopher DePhillips of the 40th District. Assemblywoman Yvonne Lopez of the 19th District was kind enough to stop by as well, but we were still making our way to the State House and unfortunately missed her. In between visits, Sam DeAlmeida coached us on best practices for meeting with legislators. Her instructions were excellent, and she offered to hold a longer training session for us soon.
We are so grateful to the NORD Rare Action Network for providing us with the structure and support to put on such an event. A big shout out to BioNJ, HINJ, NORD, and Soligenix for making the day possible as our sponsors. A special thanks to all who were on our planning committee this year. Their dedication to planning really helped make it a special day. A heartfelt thank you to Renee Merlino for volunteering to photograph our event year after year.