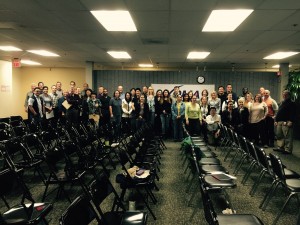 XOMA employees raised $10,000 for CHI as part of their 2015 End of Year Donation Drive. This is the largest company donation drive organized for Congenital Hyperinsulinism International (CHI)! This donation is so important to CHI because donations like this help us to raise more awareness of the condition, and support more patients and research. There is so much work to be done in support of congenital hyperinsulinism (HI) patients and gifts like these make it possible to continue and expand this work. CHI is so grateful to XOMA employees for initiating this campaign, and to the company for matching employee gifts, to give greater impact to the staff's generosity.
When I flew from New Jersey to California for the Sugar Soiree in November of last year, I also received an invitation to visit the offices of XOMA, the Bay Area biotech company working on XOMA 358, an investigational treatment for HI. I was happy to make a stop in Berkeley on the morning of Soiree day and was shocked and delighted that a large roomful of XOMA employees wanted to learn about what it is like to live with HI.
Some weeks after the presentation, CHI received the following statement from XOMA's CEO, John Varian about the donation: "XOMA's employees were moved by Julie's CHI presentation and by what we continue to learn about this devastating condition. Our staff made individual contributions to this important organization, and XOMA felt it appropriate to supplement their individual gifts. Every employee at XOMA has been touched by the impact CHI has on children and their families. We are passionate about developing XOMA 358 as a potential therapy to reduce or eliminate the hypoglycemic episodes that control their lives. CHI is doing amazing work to educate a broad audience about this disease. We will do all we can to help support your activities, and we are excited about the clinical studies we just launched at CHOP in Philadelphia (in patients 18 and older) and at GOSH in London (in patients 12 and older). These trials represent an important step in assessing the potential for a targeted new therapeutic for patients, parents and physicians at the front lines of CHI."
It was just incredible to meet the staff and to find out how interested they are in the lives of people living with HI. These folks are working hard every day on a potential treatment and they care deeply about the people living with the condition.