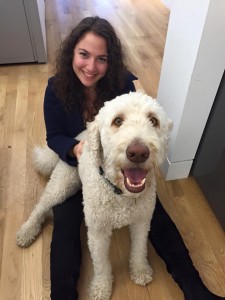 Last year, Rianna Sommers, a veteran of many Congenital Hyperinsulinism International (CHI) conferences and a former star CHI intern started her first post-college professional job at Safe Passage Neuromonitoring (SPN).
Early on in her tenure at the company, Rianna attended her first SPN staff retreat at the idyllic Mohonk Mountain House in Upstate New York. The retreat which took place last May included a team building exercise held in the evening — Casino Night. It was just what you would imagine it to be, playing cards with poker chips and monopoly money. Lots of fun. As they were playing an announcement was made: SPN would make a donation to the favorite charity of the winner, equaling the winnings of the top scorer.
"Of course, early on in the evening, it was clear I was not going to be the winner," Rianna shared. "I'm really bad at those games, but I am pretty good at convincing people of stuff. So I just started talking to a lot of my co-workers, telling them about CHI, that it is a big part of my life, that the organization needs support in order to raise awareness and help families cope with HI. At the very least, I was spreading the word about CHI and congenital hyperinsulinism (HI)." While Rianna wasn't winning, she noticed that one of the area managers was: Mike, someone Rianna works closely with, who also happens to be a really nice guy.
As they were playing, many other staff members also got interested in Rianna's story, and about HI. For most, this was the first they had ever heard about the condition or how it affects Rianna's life. Mike, who was still winning, wanted to hear more. Rianna told Mike all about HI, her own personal experiences, and the work CHI does. As it turned out, Mike did win SPN Casino Night.
The following Monday when Rianna got to work, she learned from Dan Siegel, the CEO of SPN, that Mike had indeed decided to direct the SPN donation to CHI. Rianna could not have been more thrilled.
Not only did the company make a $4,700 donation to CHI, but they circulated an internal communication about the donation, HI, CHI and Rianna. They even included a link to the CHI website in the story. SPN is a healthcare company. Rianna is sure that those working at SPN have shared this story of the company's generosity and dedication to its staff and their causes. "You know, when the neurophysiologists are waiting to go into the OR, talking to others at the hospital, they could be sharing information about HI."
Rianna is so happy with this job and the company. She says the patient always comes first at SPN, and SPN treats its employees very well. "We do intraoperative neuromonitoring, or IONM, for short. We provide technical and professional neuromonitoring for surgery, when it is required. We're a small company of only about 90 people with a big impact, and we have a large territory, working up and down the Eastern Seaboard."
I asked Rianna if she could share some of the ways CHI has been meaningful to her and others. There is a moment from one of the conferences that immediately came to mind. "I was talking with a little boy with HI, about 5, and his mother. And we were talking about what it is like to have a low blood sugar. The little boy said, 'I feel so pushy when I'm low.' His mother had no idea what he was talking about. I said 'he means like, lethargic. He can't get up.' And his mom finally understood what he was talking about when he used the word pushy. It's these moments, connecting with others who have this rare disease, the shared recognition and understanding. It's so important to connect this way, and to help others cope with this condition."
Rianna also loves getting to interact with the doctors at the conferences. "It's different from being in the hospital or at an appointment. There's the opportunity to share informally, and to be a patient expert, to engage and share the patient experience in a way that can truly inform research. I also learn so much about new ideas and research directly from the experts."
CHI is so grateful to Rianna for sharing her passion for CHI with her colleagues and employers, to Mike for making CHI the charity of his choice, and to SPN for planning such a wonderful team building exercise and for supporting CHI. The wonderful photo of Rianna above was taken at work on Rianna's birthday. "Our CEO, Dan, brought his dog Eddie to work on my birthday. It was so cool to hang out with Eddie, all day."