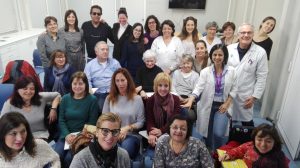 Cristina Pindado, the mother of a child born with congenital hyperinsulinism (HI) is President of the the Spanish Association for those Affected by Congenital Hyperinsulinism (AFHICO). Cristina often collaborates with CHI representing HI advocacy, support, and research initiatives in Spain and all of Europe. In addition to being an active patient advocate, Cristina is highly creative and has produced several excellent short films on HI.
And now Cristina is back at school participating in a workshop for patients with rare diseases and their caregivers that is called "Beyond the Disease Itself." This workshop is organized by the Clinical and Molecular Genetics Area and the Rare Diseases Unit of the Vall d'Hebron Hospital (Barcelona), together with the Spanish Federation of Rare Diseases (FEDER).
In creating this program, there is a recognition the patient voice is critical to ensuring positive health outcomes. More and more, patients and caregivers are partners in research and development for new treatments and they drive awareness campaigns, in addition to caring for themselves and their loved ones.
Programs like this help to fill the knowledge gap so that patients and their caregivers are better equipped to participate in projects that assume a certain level of knowledge about genetics, science and medicine. "Beyond the Disease Itself" is a pioneering training initiative in Spain that aims to increase information and knowledge on all common elements in rare diseases and basic medical terminology. The training is divided into eight sessions in which participants can expand their understanding of topics such as: the functioning of the human body, genetic studies, congenital anomalies, issues of diagnosis, multidisciplinary consultations, research in rare diseases, clinical trials, and an overview of European resources and organizations for rare conditions.
In Spain there are 3 million people affected by rare diseases and each has an incidence of less than 1 per 2000 people. Although they are diseases in which the conditions usually differ significantly from one to another, it is frequent that the affected ones and their families face common challenges.
This is a fantastic introductory initiative that will allow attendees access and participation in more advanced courses, participation in multidisciplinary meetings, and an opportunity to collaborate with others in the rare disease world to affected and their families.