Earlier this month, on Saturday, May 7, the Raring to Go for CHI team took part in the Million Dollar Bike Ride. Over 600 riders assembled in Philadelphia to ride bikes with the purpose of raising rare disease research funds. The CHI team was our biggest ever. Folks with congenital hyperinsulinism (HI) and their friends, HI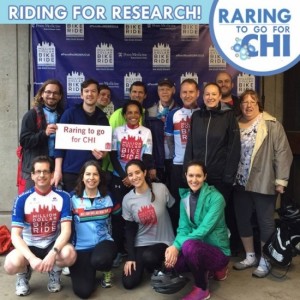 parents, and HI medical professionals came together to ride through the streets of Philadelphia, and they didn't let a little rain stop them.
The funds each team raises are used for pilot research studies – exploratory studies that give insights into the actions, efficacy, and safety of a drug or diagnostic process.
For those who are familiar with the HI community, it is clear that new research is extremely important because only a portion of babies born with the disease have good treatment options. Many babies spend months in hospitals before they are discharged, finally returning home with a treatment plan difficult to maintain.
The problems continue. Blood sugar issues can last a lifetime, and there are often complications from the condition including neurological problems, and other health issues as well. There is also so much stress on the family because feeding can be so difficult and good blood sugars are often dependent on a strict feeding schedule and a gastrostomy tube (G-tube) in good working order. Stuff happens. Sometimes things go wrong — there is a power outage, a g-tube gets unhooked, or a baby just doesn't want to eat. All of this can induce extreme anxiety for parents trying to keep a child's brain safe from prolonged hypoglycemia.
We live in promising times. There are a number of investigative studies taking place at HI centers around the world. Biotech companies are interested in our population and working on investigative treatments. This is truly fantastic but not enough. We need more researchers to get involved and to be funded to work on new concepts.
The Raring to Go for CHI Research Fund at the Center for Orphan Diseases of the University of Pennsylvania offers a new competitively bid pilot grant each year, and this is a great way to increase the pipeline of excellent research projects that can lead to better treatments or cures for people with HI.
What is truly incredible about this opportunity is that all of the funds raised are for research. Better yet, the funds that CHI raises are fully matched by the University of Pennsylvania.
Researcher from anywhere in the world can apply for these funds. The grant process is overseen by rare disease specialists including those who specialize in HI research. The patient voice is included in the process. HI families will be asked what their priorities are for research areas.
This year, for the first time, those who rode in Philadelphia on May 7 have been cheered on and supported by the Raring to Go for CHI Teams all over the world. HI families have put their little ones on wheels of all sorts and they raise funds from wherever they are in the world through their CrowdRise teams. Older kids have also started teams and raised funds. It's been a great year of riding for research. Let's keep it up. Here's the link to donate: https://www.crowdrise.com/raringtogoforchi.